A new Android app from the Skype dev team has SMS texting integration built right in
1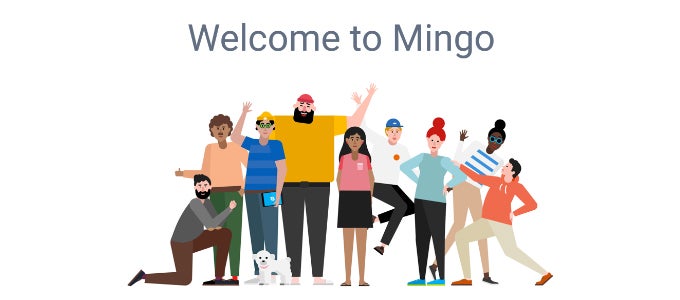 Every time a reputable developer releases a "hidden" app in alpha version on Google Play, we just can't resist to take it for a spin. This time around it's actually a brand new app from the Skype team, developed from the ground up as a mobile-first experience.
The app is dubbed Skype Mingo on Google Play, but it installs as just Mingo on your phone, which might be an indication for some sort of branding change when the final product is released. We are also curious as to whether it will replace the old Skype app eventually or co-exist with it as a separate product. Either way, it's to early to tell so let's take a closer look at Mingo (derived from mingle?).
The app sports a familiar Skype-like icon but substitutes the "S" for an "M". When launched, Mingo greets you with the familiar tabbed blue-and-white interface, but the changes are immediately obvious. First off, the "Recents" screen now displays not only your recent Skype, but also your texting conversations. Similarly, the "Recent calls" screen displays calls made both through Skype or Mingo, as well as your device's call history. The contacts list hasn't changed all that much, only when you tap on one of your contacts now – even if it is someone who you haven't added on Skype yet – you can text them immediately nonetheless, as Mingo supports standard texts (SMS).

The new tab bar in Mingo. You even get a separate screen for Skype bots.
That's right, Mingo can serve as a replacement to your default messaging app, as it allows you manage all your texts from within it. However, plain old SMS texting is kept separate from the Skype messaging service, and if you send a Skype message to someone who is unavailable, the text won't be automatically sent as a regular SMS. That said, it's still a nice all-in-one communications hub that could serve as a replacement for, say, Google Messenger or Textra.
Another cool thing that Mingo will allow soon is to receive messages sent from Skype for PC as SMS texts, as well as to reply to these. Dubbed SMS relay, this feature was introduced in the Windows 10 Skype preview app, but it only worked with Windows 10 Mobile devices. Microsoft teased that relay will be coming to Skype for Android as well, and it seems like Mingo will serve as a lab rat for this feature.
Skype Mingo is still in alpha, which means it could be unstable in certain situations, but we took it for a short spin and had no problems. So, if you like to try out new apps ahead of their final release, follow the link below and try out Mingo for yourself.
Note: The app won't appear on Play Store if you try searching for it, as it is currently in alpha. You can only get through a direct link. Also keep in mind that Mingo may not be available in your region yet.
via
Reddit