A majority of U.S. teens now admit that they are hooked on handsets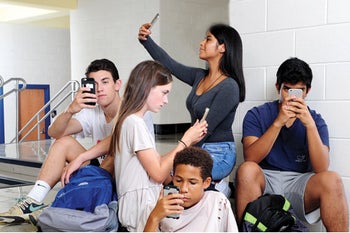 A new Pew report released today reveals that teens in the U.S. are beginning to question how much time they are spending on their smartphones. According to a survey taken earlier this year, 54% of American teenagers say that they are spending too much time using their phones. 52% have started cutting back on that usage. At the same time, 57% of them are using social media less and 58% are restricting their use of video games. Interestingly, only 36% of parents are fessing up about using their phones too much.
The same survey shows that 51% of the teens feel often or sometimes that their parents' smartphone use prevents them from paying attention to them during a face-to-face talk. 72% of parents say the same thing about their kids. A majority of teens (72%) and parents (57%) are apt to check their handsets for notifications as soon as they wake up in the morning. More parents are apt to lose focus at work because of their phones (39%) than the kids are to be distracted at school (31%). While there certainly are advantages to owning a smartphone, sometimes it creates pressure. 58% of the teens surveyed said that they often or sometimes feel pressure to respond immediately to a message.
35% of teen boys and 49% of teen girls (42% of teens overall) feel anxious without their phones. 20% of the boys and 32% of the girls (25% overall) are lonely without their handsets. While that might be raising an electronic device to the level of a personal friend, not all teens need to have their phones with them. 34% of the kids are relieved or happy when they leave their smartphones at home.
743 teens and 1,058 U.S. parents of teens were surveyed between. March 7-April 10, 2018.
source:
PewResearch
(image credit: Michael Ventura/Bethesda Magazine)