A huge Bing update is now available in the App Store, not so huge for Android
2
It's a common knowledge that plenty of people think that Microsoft's Bing is a little bit inferior compared to Google's engine, but the employees at the Redmond-based corporation are obviously working hard to change this perception. The fruits of their labor are here in the form of a huge Bing update for iOS and one somehow limited for Android. But the good things first - the iOS update promises a lot of improved location-based services plus plenty of information and options if you need to, say, reserve a table in a restaurant or see its menu.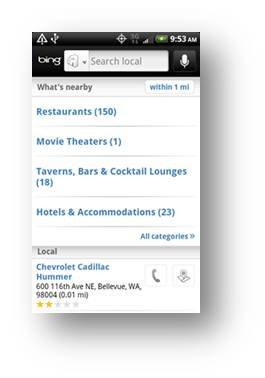 First of all, Bing for the iPhone offers you services like
OpenTable
(it gives you the chance to make a reservation in hundreds of thousands of restaurants across the US) and
GrubHub
(for food orders) within the app, as well as public transportation info, which not only notifies you that your bus/train is on time/delayed with 5 minutes, but also makes predictions for arrival times. Furthermore, Bing now offers Microsoft's answer to Google's Street View - named
Streetside
- that provides you with panoramic views of city streets. On top of all that, now you have much improved voice search. If you want to get it, this Bing update is already available in the App Store.
Unfortunately, the Android update offers only a few extras, like
"what's nearby"
that gives you info about all the notable places around your location plus the OpenTable and GrubHub services that we described above. As with the iOS update, it's already available in the Android Market.
source:
Bing Community
and
LA Times