A custom iPhone 6 case: how and where to make one
2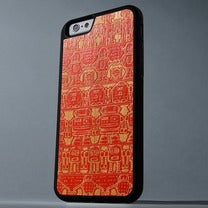 There's no shortage of iPhone 6 cases. Whether it is a thin, lightweight shell or a rugged, impact-resistant case you're looking for, you'll be able to find one with ease after a few minutes of browsing the web. It isn't as easy to find a case that's truly unique, however. But it is still possible, and it doesn't cost a fortune. Anyone can design their own, custom-made iPhone 6 or iPhone 6 Plus case – a case that perfectly matches their style and expresses their personality – with the help of the online services we're about to introduce. Cases cost about forty bucks, and you can have an image of your choice printed right onto it. Check them out!
Casetify
Designing your own, custom iPhone 6 or iPhone 6 Plus case is easy with Casetify. You start off with a clear plastic shell as your canvas and proceed to adding images of your choice. Graphics can be arranged in a pattern, over 20 of which are available to pick from, or you may simply choose an existing template and add a favorite picture of yourself or a loved one. Images can be easily imported from Facebook or Instagram, sparing you from the task of uploading them manually. You may still upload graphics if you wish to, or use one of the many free stamps and patterns.Once you're happy with your design, you may have it printed and shipped to you for $39.95. International buyers are welcome.
Skinit
There are two types of iPhone 6 cases available for personalization at Skinit – a 1-piece, light-weight case made of ThermoPlastic and a 2-piece, extra durable case with textured edges for better grip. To add an image to your custom design, you may upload a graphic or import one from Facebook, Instagram, Flickr, Google Plus, or the web as a link. Alternatively, there are plenty of stock images to choose from. The case itself can be clear or in one of over 20 colors. Having a custom iPhone 6 case from Skinit will cost you $29.99. Note that customizable iPhone 6 Plus cases aren't being offered yet.
Carved
A custom iPhone 6 case made of wood? Sure, you can totally get one of the two models available for customization at Carved. The Slim one, as the name implies, is slim and light, while the Traveler model is thicker and a bit more rugged. Once you choose a case, you are invited to pick one of the 11 different types of wood finishes. Choices include maple, mahogany, redwood, ebony, cedar, walnut, and more. Then you may upload your graphic or add text to your custom design. Unfortunately, color photos are not an option as there's no way to engrave them in the material. Only black and white graphics are allowed. Another downside here is that the web site does not give you a preview of what your customized case is going to look like. Still, with a little effort, your artistic efforts may produce something worthy of being shown off. Cases at Carved cost $49 apiece.
Shutterfly
Shutterfly can print your face on many things, and an iPhone 6 case is one of them. One of two case types can be used as canvas – a basic slim case or a case with a liner – and a battery case may come in the near future, as far as we can tell. Also, you may choose between a matte or glossy finish and one of the many trim colors. Then you import one or several of your images stored on Facebook, Instagram, or Shutterfly itself, arrange them to your liking, and hit the "Add to Cart" button. Uploading images from your computer is also an option. Unfortunately, transparent PNGs don't seem to be supported. Prices start at $35.99 per case.
Case-Mate
Custom cases for both the iPhone 6 and iPhone 6 Plus can be ordered at Case-Mate. The personalized accessory's design is based on the Tough model by the case maker, so you know your phone is well protected while inside. Once in the web-based case designer, you may add one or multiple images and arrange them in a way you like. The case itself can be had in one of 11 different colors. The cost? $45 apiece.
Getincased
At Getincased, you get to build your own custom iPhone 6 case based on one of two different case designs. The SLIM case is light and thin, and the TUFF case is a 2-piece, extra durable model with a hard external shell and a TPU liner. The iPhone 6 Plus is also welcome, but only SLIM cases are available for customization. There's one downside to Getincased's solution, however – only one image can be applied to the case. But that should be no problem to anyone who knows how to stitch pics in a collage with an image editor. Prices start at £25 ($40).
Zazzle
This post would be incomplete if we skip Zazzle, where custom iPhone 6 cases can be designed using Case-Mate's cases as base. You may have your photos printed on a slim and light Barely There case, or on the much sturdier Tough Xtreme, among other models. You customize your case of choice by uploading a single image from Google Drive, Instagram, or your computer, then crop and scale it to your desired size. iPhone 6 cases cost 40 bucks, and for $5 more you can design yourself a case fitting the iPhone 6 Plus.