A couple of ways to stop your iPhone and iPad from tracking you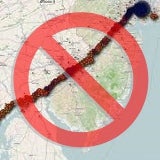 Only moments after we discovered how iPhones and iPads were secretly
tracking your every step
, ways to prevent the disturbing iOS "feature" from operating started popping up on the internet. Sure, logging positional data on your smartphone is not necessarily cause for an alarm, as long as your dossier is immaculate, but we are absolutely convinced there are people simply too paranoid to live with the fear that Big Brother is constantly looking over their shoulder.
Even though a way of completely disabling the logging feature has not been found yet,
wiping out
the logs themselves is already possible thanks to a little app named
untrackerd
. The only catch is that it requires a
jailbroken
iPhone in order to run. Once loaded,
untrackerd
remains hidden in the background and deletes any positional information that may get stored on the device without your approval.
However, there is a way of being 100% sure your privacy is protected – a last resort, brute force solution that totally cuts off your iDevice from any wireless network. It is called the Standard Black Hole Faraday Bag, and any wireless device placed inside it – a cellphone, tablet, even a pocket FM radio, will be unable to send or receive any radio signals. Unfortunately, that makes any cellphone inside it pretty much
unable to make or receive calls
until you finally decide to take it out, but hey, it is the price that absolute privacy comes at. Oh, and did we mention that it costs 80 bucks?
If you can think of better ways of stopping iOS from logging your footsteps, feel free to share them with us in the comments below. Or maybe people that truly value their privacy should resort to a different brand instead?
source:
9to5 Mac
,
Faraday-Bags
via
TUAW
&
SlashGear