A bunch of Samsung midrangers heading to US carriers: Galaxy Stratosphere 2, Admire 4G, and Victory 4G LTE
5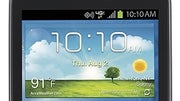 Tipsters have sent a few words about upcoming Samsung low- and mid-range handsets for small and large US carriers. New week, new Samsung phone seems to be the motto lately, and the Koreans don't disappoint.
Here's a rundown of what the tipsters said we can expect from Verizon, Sprint, MetroPCS and even TracFone, in terms of Samsung handsets soon:
Galaxy Admire 4G for MetroPCS
. An upgrade to the Admire, the Admire 4G adds LTE support and more closely resembles the original Galaxy S (exactly the design Apple's trying to stop, in fact). Strangely, it's currently slated to get Android 2.3 — hopefully that changes by the time it's on shelves.
Galaxy Discover for TracFone
. The ultra-budget prepaid carrier doesn't currently offer any branded smartphones, so the Galaxy Discover could end up being its first. It's slated to get Android 4.0, Bluetooth 3.0, "ample" internal storage, and external expansion up to 32GB. This one looks a bit like an original Galaxy S, too, but features three capacitive buttons along the bottom instead of the classic four.
Galaxy Stellar for Verizon
. This is the phone that leaked last month as the "Jasper," a Droid Charge successor that keeps the original's unusual pointy chin. It's tapped to get a 1.2GHz dual-core processor, 2,100mAh battery, Android 4.0, and — of course — LTE.
Galaxy Stratosphere 2 for Verizon
. Samsung doesn't seem to have any intention of pushing QWERTY sliders globally, but American carriers are clearly still asking for them — and that's where the Stratosphere 2 comes into play. The follow-on to last year's Stratosphere, this new model features global GSM roaming capability, SAFE approval to make IT departments happy, S Beam, and S Voice.
Galaxy Victory 4G LTE for Sprint.
Leaked several weeks ago under model number SPH-L300, the unwieldy name underpins a phone that will likely slot in underneath the Galaxy Nexus and Galaxy S III in Sprint's portfolio: Android 4.0, LTE support, NFC, a 5-megapixel camera, and WVGA display are all rumored to be on tap.
While we've seen some of these leaked before, such as the
Jasper
aka Stellar now, and we have to add the
Galaxy S Relay 4G for T-Mobile
to the tap, it is comforting that Samsung keeps pumping our handset after handset to occupy the levels below flagship status, as that's where value for money goes.
Recommended Stories