A bit more humor on Facebook's purchase of Instagram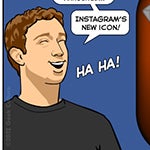 Since Facebook announced their headline-grabbing
$1 billion purchase
of Instagram there has been a lot of angst by current users that the app and its famously tight-knit development staff will be devoured by Facebook and turned into something unrecognizable, or else use it to start aggressively collecting more personal data from users.
And what do tech-hipsters do when they have angst?
Use humor
of course! We've already seen The Daily Show's take on the Instagram buyout, but the comic The Joy of Tech over at AllThingsD seems to have perfectly captured some of these concerns – and unlike many of the humor videos we come across, we think the comic captures a legitimate concern shared by users of Instagram.
Without further ado:
source:
AllThingsD