The Daily Show takes on Google Goggles and Facebook's Instagram purchase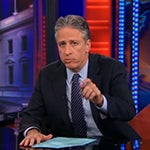 It's not every day that the world of mobile technology makes its way onto late night comedy shows, so when John Stewart and the cast of The Daily Show decided to poke fun at Google's Project Glass and Facebook's purchase of Instagram in the same segment, we knew we had to share.
In the clip below John Stewart questions the wisdom of walking around New York with augmented virtual reality glasses, and tries to understand what makes Instagram worth so much money to Facebook. Just like other
parody videos
we've posted, we don't recommend taking them as serious critiques – it's best to simply enjoy the humor for its own sake.
The humor may be coarse enough to be NSFW depending on your employer, so exercise good judgement in where you watch it:
source:
The Daily Show