A $150 app pairs up with Kinect and a projector to turn any surface into a touchscreen
14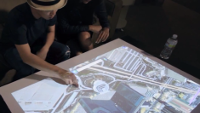 After several years of collaboration with Microsoft and some 50 organizations, Ubi Interactive, a start up, has finally turned its brainchild into an actual product. With pricing starting at $150, the Ubi app is offering to pair up a Kinect for Windows along with a projector and in turn transform any surface, like a table or a wall, into an interactive touchscreen:
"
At Ubi Interactive, it is our goal to make the world a more interactive place. We want human collaboration and information to be just one finger touch away, no matter where you are. By making it possible to turn any surface into a touch screen, we eliminate the need for screen hardware and thereby reduce the cost and extend the possibilities of enabling interactive displays in places where they were not previously feasible—such as on walls in public spaces. Our technology has implications of revolutionizing the way people live their lives on a global level
.", said Ubi co-founder and CEO, Anup Chathoth
For the technology to work, a projector will be mirroring an image on a surface of your choice, while a Kinect sensor will be tracking your movements allowing you to interact with the screen in a similar fashion to how you use your current tablet or smartphone. Moreover, thanks to 3D mapping, the Kinect system can actually tell when you're 'clicking' the image, and when you're simply hovering. This allows for the use of multi-touch gestures that you're familiar with, like scrolling, pinching to zoom or simply flipping through pages.
Of course, while the rather futuristic concept of touchscreens everywhere sure is appealing, it does seem like Ubi is downplaying the fact that while its product kills off the need for a monitor, the cost of the app, a projector and a Kinect still amounts to a not too affordable sum. What's more, we don't quite see how Ubi's proposed setup is more feasible, since they still have to deal with hardware that
could
possibly be harder to reach, but surely not impossible. Said otherwise, don't get too excited just yet – we might not be as close to interactive touchscreens on, say, bus stops, as Ubi would like us to think.
source:
Ubi Interactive
via
CNET