90night sleep time calculator helps you wake up at the right time
6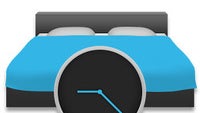 If you're a human being living in the civilized world, then you probably know how it feels to wake up in the morning feeling as sleepy as you did when you went to bed. This isn't necessarily caused by insufficient sleep time, as it turns out. Sometimes the culprit could be your own sleeping cycle, or its untimely interruption, to be more specific. You see, people sleep in cycles lasting roughly 90 minutes each. Wake up between one of these and you'll be feeling just fine. Wake up in the middle of a sleep cycle, however, and you'll end up feeling groggy and tired throughout the morning.
All it takes to avoid the latter scenario is to set your alarm clock accordingly. No worries, there's an app built to help you with that! It is called 90night and it is pretty much a calculator capable of setting your phone's alarm clock. All that 90night needs to know is what time you're planning on going to bed. After that, the app will suggest a list of suitable wake up times. You pick one of them and you're done! Optionally, there's a way of inputting the time it takes you to fall asleep into the calculations.
90night is available as a free download from Google Play. For just a dollar, you'll be enjoying an ad-free experience, all the while supporting the developer and his work.
| | |
| --- | --- |
| Developer: Jonathan Nakhla | Platforms: Android |
| Category: Health & Fitness | Price: Free, $0.99 to remove ads |