8 out of top 10 paid apps for iOS are at least a year old, Android is somewhat better
25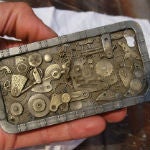 It really seems like smartphone app stores need to come up with a better algorithm for showing what the top paid apps are, because it seems that those titles don't change all that much. Apparently, 8 out of the top 10 paid apps for iOS are from franchises that are at least a year old, and some of the titles are much older than that.
When we see top sales charts, we expect a certain amount of turnover. Top songs don't stick around long, neither do top movies, or top console games. But, apparently top apps stick around for quite a long time. Someone crunched some numbers and found that as of December 28th, six apps on the iOS top 10 paid app chart were at least 400 days old; three apps were 800 days old or even older; and even new titles like Angry Birds Star Wars and Bad Piggies are spin-offs of the 1000-day-old Angry Birds franchise. The only two new names on the list were Wipeout and Need for Speed, but of course both of those titles are from franchises that go way back on consoles.
The top free apps section sees quite a bit more turnover with a lot of new franchises popping up, but it seems like the top paid app section just keeps churning out the same names. A quick look at the Google Play Store shows a similar trend, as old names like Titanium Backup, Root Explorer, ROM Manager, Beautiful Widgets, and TuneIn Radio Pro make appearances. But, Google seems to have helped shake up its chart with the top games of 2012 listings, because top games like Devil's Attorney and The Bard's Tale are also on the list. Google does also make things easier by offering "Top new" charts for paid and free apps.
Of course, it could just be that the top paid app chart is something that new users can use to get set up with quality apps and games that have stood the test of time. And, these apps have been updated, some quite recently. So, is that how we should treat these charts? Top apps are something of a new users list, and the top free chart is where you find the new goods?