8 exclusive or limited edition Android devices and gifts taken right out of Google's vault
5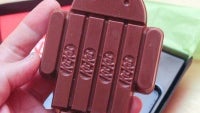 Living the life of an Android developer can be incredibly daunting. Unless you love your job (or hobby), keeping up with all the APIs, changes, frameworks, and the abundance of hardware that's not always properly documented seems draining and nigh on impossible!
There is another side to the medal, though. If you ever worked for Google, attended its yearly I/O events, or simply knew someone that did, then you've had the opportunity to touch hardware and gadgets that few others will. One of the coolest (but possibly dangerous) parts of being a developer involves tinkering with prototype hardware that's being held behind closed doors or released in limited quantities.
One can can also get their grubby hands on a branded version of a hot-shot smartphone or tablet to better show off that Android swag! And don't get us started on other crazy ideas Google had about development kits and literal chocolate desserts created in support of the Android cause. Check out the slideshow below and have a chuckle with the Android memorabilia you're about to see!