70 iPhones stolen in daylight robbery, crooks arrested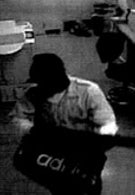 2 men accused of using a handgun and a shotgun to rob an AT&T store of 70 iPhones were arrested by the police. Last Thursday, the two armed men, 20 year old Wayne Esteen and 21 year old Ronnie Davis, forced employees to lock the door to the store in Lake Forest California, and hand over boxes of cellphones which included about 70 of Apple's touchscreen smart phone. Also taken was thousands of dollars of cash. When the two men were captured on Monday, none of the iPhones were recovered and authorities suspect that the phones might have been sent to other countries where they could have been jailbroken and sold to work on local networks.
There are reports that Apple has been working on a way to use its MobileMe service to help find lost or stolen iPhones. In this case, the phones were not activated so the new service would not have been able to help find the handsets. This new feature is expected to be part of the Apple 3.0 software release coming this summer.
source:
O C Register
via
CNET