7 upcoming high-end smartphones to get excited about
42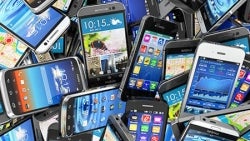 Lately, there has been a lot of talk about how high-end smartphones give little reason to upgrade compared to their predecessors, and it must be said that there are a lot of arguments to sustain these claims. If you're more optimistic about the trajectory of smartphone tech, however, you'll probably find that we still live in exciting times for smartphone fans.
Before diving into the details, let's go through a summary of what's probably about to happen in the smartphone industry:
Apple, coming off its most successful iPhone launch in history, is about to launch S-cycle devices with improved internal specs. Microsoft, coming off what appears to be a good head start with the full-sized version of Windows 10, is about to launch Windows 10 Mobile with Android app support and a couple of high-end phones to showcase the OS with the pedal to the metal. Google's Nexus line-up is up for a 2015 refresh with Android 6.0 Marshmallow. BlackBerry is rumored to launch an Android smartphone with a QWERTY keyboard. Faced with such intense competition, it's no wonder that Samsung decided to launch the Galaxy Note5 early this year.
Not excited yet? Let's take the time to discuss the top seven smartphones to get excited about!