7 tech demos that showcase some of the best 3D graphics Android can pull off
4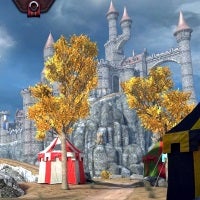 Not that long ago, gaming used to be for nerds and 3D graphics was an art form only to be appreciated by the ones invested in big, mean, expensive PC rigs. That's no longer the case, though. Gaming has become a casual hobby for the masses, and awesome 3D worlds are being rendered on our mobile devices in real time. What a time to be alive, huh?
While today's 3D games can make short work of even the most muscular graphics units out there, there's a category of content that was designed for this from the very beginning. It's called a "tech demo" and it's meant to showcase the most amazing graphics a piece of mobile hardware is able to pull off at the moment. We decided to round up 7 of these bad boys for your aural and chipset-straining pleasure right here. Some of them are a little long in the tooth now, but they are still interesting and engaging enough to be worth visiting or revisiting.
Now, charge that smartphone to full, do any over-clocking you might have been planning to do, and get to grips with those tech demos!