650 iPads to be given to members of British parliament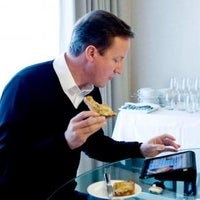 British Prime Minister David Cameron is an
iPad
fan. He even has his own
personal iPad app
that helps him perform his duties. Soon, however, all 650 members of the British parliament will be given an iPad in order to cut spending associated with printing documents and other miscellaneous expenses, as well as to facilitate their work flow and to replace any obsolete and bulky equipment that is still in use.
The decision comes after the successful completion of a pilot program that demonstrates the benefits of using tablet computers in government. Between £260,000 and £429,000 ($420,300 and $693,500 respectively) is what the program will cost, not taking into account any charges for mobile data or app purchases. About 70 of all 650 members of parliament have an iPad already, but the devices will be listed as an expense that will be passed on to the taxpayers.
Only 350 out of the 650 members will be given an iPad outright, however – those who are assigned to a select committee. The remaining 300 will be required to turn in one of their government issued device, which will bring down the costs of purchasing the iPads. The source notes that each member of the British parliament is entitled to three desktop computers and two laptops.