65" Android 'tablet' looks to evolve the simple white board (video)
10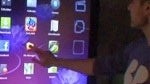 OK, so this story seems a bit strange on the surface, but the potential is actually pretty interesting. A Turkish company, Ardic, has made a 65" Android "tablet". We'll call it a tablet because it is running Honeycomb, but that's where the similarities end.
The prototype is still a bit of a slingshot, which is actually running Honeycomb on a 10" tablet hooked up to the 65" screen through the HDMI port. But, the 65" screen itself can handle two touch inputs and simple gestures like pinch to zoom. The plan is to add more touch inputs and be able to support full multitouch.
Right now, it is still just a prototype, but it looks pretty cool, and the ultimate idea could be pretty interesting. The end point for the idea is to jump into the market for smart boards, which are the digital successors of chalkboards and white boards that we've all seen in classrooms. It would have to contend with smart boards, and Android would certainly need to up its education offerings, but it's a cool idea nonetheless. And, even if the screen doesn't end up being a fully integrated Android box, it would still be a nice option to be able to hook up our tablets to TVs for some 65" Angry Birds.