6 new and coming Android smartphones powered by the 64-bit Snapdragon 615 processor
18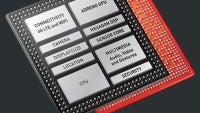 The Qualcomm Snapdragon 615 processor
is the piece of 64-bit silicon we'll most likely encounter in the "almost flagship" smartphones that will appear on the market before the likes of Samsung, LG, HTC, and Sony are ready to present their most important offerings in the first half of 2015. By "almost flagship", we mean devices from the "upper mid-range" category, which are reasonably advanced in terms of hardware, but usually aren't representative of their manufacturers' latest breakthroughs in design and technology. There are exceptions to the rule, of course, but for the most part, that's the upper-mid range smartphone for you.
That aside, what makes the Snapdragon 615 processor special? Well, it brings forth the industry's first octa-core 64-bit CPU architecture with integrated Cat. 4 4G LTE. Made on a 28nm process, the CPU is formed by a combination of four 1.7GHz ARM Cortex A53 cores and four 1GHz Cortex A53 cores, paired with the Adreno 405 GPU, a Hexagon V50 modem and app DSP, and Qualcomm's Quick Charge 2.0 tech among other goodies. While the processor is no performance beast, it packs enough punch to deliver precisely half of the 32-bit Snapdragon 805's performance while staying energy-efficient. This is enough power for everything, short of the most demanding 3D games and emulators.
So what are some Snapdragon 615-powered phones? We've rounded up six of them, mostly new and coming. Aside from the fine processor we're talking about, they stand out with design, features, and reasonable prices.