When it comes to the 5G iPhone 12 series, what you see may not be what you're getting
3
According to AppleInsider
, a new feature that Apple launched with the 5G iPhone 12 series has changed how the status bar works on the 2020 5G enabled iPhone models. Instead of showing the network that a particular
iPhone 12
series handset is connected to, users will see the best network available to them instead. For example, if you own a 5G iPhone 12 device but you're in an area without 5G service, your phone will still show 5G in the status bar instead of LTE.
The reason for this change is the new "Smart Data" mode designed to save battery life on the iPhone. When iOS determines that the content on the phone benefits from a 5G connection, the handset will connect with a 5G signal. Otherwise, an LTE connection will be used. The good news is that "Smart Data" can be toggled off and disabled by users. It isn't known yet which activities the feature will consider worthy of 5G data speeds and which activities will drop the phone down to LTE.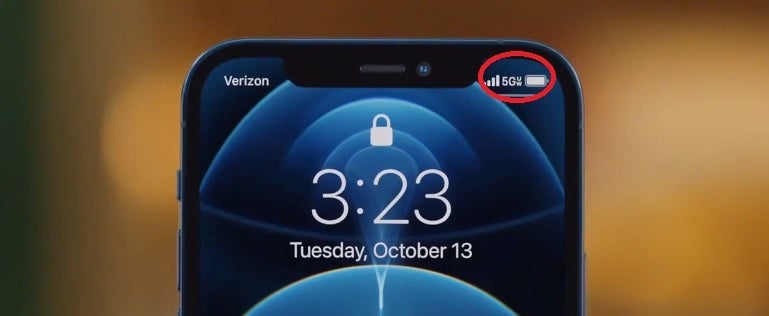 Verizon's first ads for the iPhone 12 Pro show off the 5G UW icon in the status bar
This isn't the first time that an iPhone will show a 5G indicator in the status bar even without a 5G connection
. You might recall the flak that
AT&T
received a couple of years ago when it starting using a 5GE indicator in the status bar on iPhone models that were connected to the carrier's 5G Evolution network. The problem is that 5G Evolution is AT&T's name for its enhanced 4G LTE network. This might have led to confusion among mobile-naive consumers who might not have known that no iPhone-at the time-could work with 5G airwaves (not that there were many 5G signals to be found two years ago).
We wonder how the public will react when they learn that what you see in your iPhone 12's status bar might not be what you get. And another question we have is whether this means that
Verizon
customers will always see the 5G UW icon such as the one seen in the new ads starring funnyman Chris Rock even when connected to the carrier's slower DSS based nationwide 5G network. The Ultra Wideband 5G signals are driven by high-band mmWave spectrum which produces the fastest 5G download data speeds; this means that for Big Red customers, it will always be potentially the fastest signals that they can connect to.