5.5" iPhone 6 concept gets sized up to the LG G3 and OnePlus One (video)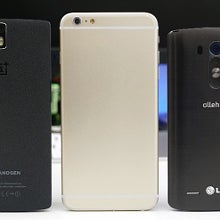 We've seen the rumored
5.5" iPhone 6
model sized up next to its brethren from the iPhone franchise -
the iPhone 5s, and the eventual 4.7" iPhone 6
- as well as
next to Android flagships
like the HTC One (M8). How about sizing the 5.5" iPhone mockup next to Android phablets with the same screen diagonal?
Well, there's that now, as the
iPhone 6
dummy has been measured up against the hot
LG G3
flagship, with its 5.5" Quad HD display, and also next to the affordable
OnePlus One
handset, which is yet to see wider availability. As you can see, the screen-to-phone ratio, based on the leaked schematics of the 5.5-incher, isn't that great, as it is taller than even the OnePlus One, let alone the ultracompact for its screen size LG G3.
This might have to do with the venerable
Touch ID
fingerprint sensor that ought to be on iPhones from now on, and will always mess up the bottom bezel width to fit in. Thus, Apple either has to shave off the top bezel almost completely, like on Sharp's EDGEST line of phones, or ditch the home key/Touch ID combo at some point for something else, which doesn't look like it's going to happen any time soon.