5.1mm-thin Vivo X5 Max L goes through TENAA, brings the best of the crazy-thin Vivo X5 Max for less
2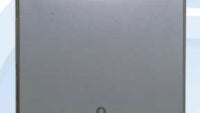 Slim smartphones are becoming more and more of an interesting topic to tackle as devices from Gionee, Oppo, and Vivo reach new standards for thinness that make Apple and Samsung's claims seem downright naive - which is quite the accomplishment! As you may remember, Vivo broke all previous smartphone thinness records - formal and informal - with its 0.15in (4.75mm)-thin Vivo X5 Max,
which it introduced last year
.
The engineering accomplishment is astounding - Vivo designed a motherboard that's only 0.067in (1.7mm) thick, used a screen assembly that's just 0.05in (1.36mm) thin, and stuck "the world's thinnest speaker box" at 0.09in (2.45mm) inside. Not only that, but the Vivo X5 Max somehow fits a dual-SIM slot and a 3.5mm headphone jack
in those improbable constraints
!
Now, those who walked away mightily impressed and waited eagerly for Vivo's next move will be getting a taste of what's to come. Not, it's not another record-busting engineering marvel, but a very solid (and thin!) smartphone nevertheless. We're talking about the Vivo X5 Max L, which is, essentially, the Vivo X5 Max with an engine change (the 64-bit Snapdragon 615 gets swapped for a MediaTek SoC of similar capabilities) and a body kit - the profile has grown to 0.2in (5.1mm), which might actually feel more comfortable to some, and there's some more mass to it - 5.39oz (153 grams) against the former's 5.15oz (146 grams).
Everything else that we loved about the Vivo X5 Max has been preserved - the 5.5-inch 1080p screen, 2GB of RAM, 16GB of storage, 13MP rear camera, LTE connectivity, probably the same 2000mAh battery, and Android 4.4 KitKat. Save for the increase in thickness and weight, the dimensions remain the same as well - a compact 6.06 x 3.07 inches (153.9 x 78).
A more affordable version of the current slimmest phone on the planet (which costs about $399) is great news for everyone, but the X5 Max L will most likely remain an Asian exclusive when it launches sometime soon.