5 luxurious smartphones that you can't afford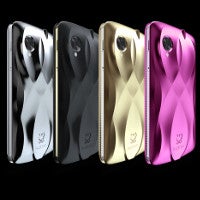 Think Apple is overcharging for the
iPhone 6s
or 6s Plus? That Samsung Galaxy S6
edge
+ a bit out of your price range? You're not alone, to be fair, but the items on today's list will make the aforementioned trio sound as affordable as a pack of gum. And how could they not? Some of the items on the list come with bodies embellished in gold, with a titanium exoskeleton, and/or with rubies encrusted left, right, and center.
Obviously, with such luxury items, the usual specsorama takes a back seat, as these aren't meant for your neighborly Android geek who's always after the highest
pixel
or processor count. And while some of the devices we'll highlight below offer an up-to-date specs sheet, others—quite understandably—are focused on areas other than the internals underneath. Like crafting a truly posh casing.
And so, before we jump right into this one, you might be wondering just how expensive devices we're talking here. We'll put it this way: the cheapest we were able to do was $2,000, and that's for a... feature phone. Yeah... let's just dive in: