5 iOS apps that make chores fun for your kids
1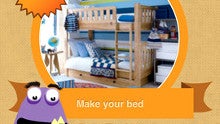 Getting kids to do the chores is an exercise in frustration, as, unlike the good old times, everything has to be fun and games now. Try to instill that taste for discipline, hard work and selflessness called "taking out the garbage bag" in your 6-year old and you'll know what we are talking about.
A new breed of children apps (yes, there's an app for that too) is aiming to remedy the evolution's glaring omission in human upbringing called "the first seven years," by trying to make chores, well, fun and above all, a game. Kids these days learn to manipulate touchscreens on your phone or tablet before they learn to read and write, and if you can't take them away from the gizmos, it's time this addiction gets put into good use
They present the chores list in an entertaining way, and dole out incentives like bonus points which you can collect for cash, or, in this case, a trip to the ice cream parlor. Check them out in the slides below, and start having ideas.