5 fun games with trains for Android and iOS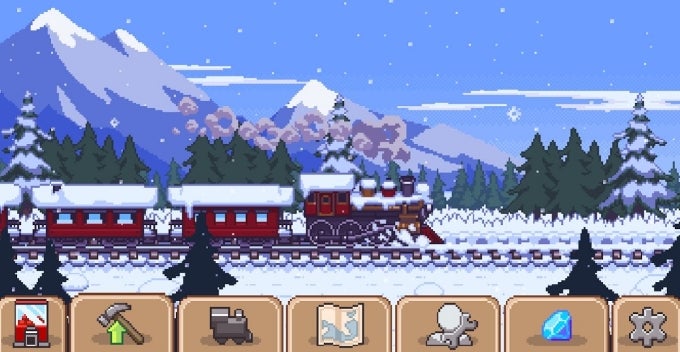 Do you find trains fascinating? Hop aboard these five games which offer wildly different train driving experiences! You can be a tycoon growing their transport network or just a player enjoying an original arcade game that happens to feature trains. You can also participate in a realistic simulation of operating a train through various places, conditions, and events – picking up passengers or carrying cargo, manually controlling the machine or stepping back and observing it on its path. Play whatever you're in the mood for!
Train Conductor World
Train Conductor World is a high-speed train traversal puzzler where you conduct and control the tracks, manage movement, and watch your rail network grow. Your trains will be barreling across the canals of Amsterdam, zooming around the Arc De Triomphe in Paris and navigating the perilous peak of the Matterhorn. According to the game's creators, you'll need nerves of steel and snappy strategy to keep the chaos under control. The experience is full of explosive crashes, near-misses, and split-second decisions. Thankfully, you can customize your trains to give them an edge and optimize your railway - there are rocket boosters, star medallions, and other power-ups at your disposal to help you along on your mission of growing the world's biggest railway.
Tiny Rails
In Tiny Rails, your inherit grandpa's train company and it's now up to you to expand. You will upgrade and customize your train while unlocking new stations, delivering passengers, and trading supplies across the world! You can play as a railroad tycoon or sit back and relax as your train travels through unique environments complete with weather and climate changes. You can decide to outfit your train with food, entertainment, and comfort cars to increase passenger happiness and grow your business. Rendered in nostalgic pixel art, the game will have you exploring the world map and experiencing a variety of environments and weather conditions, with you choosing your preferred gameplay style.
Euro Train Driving Games
If you are after a more realistic experience, you should try this one. In Euro Train Driving Games, you can drive your favorite trains and manage the driver's cabin as you visit different terminals and pick up or drop passengers at the station. The game features realistic railroad levels where trains coexist and operate just like in the real world. It contains 20 Challenge Driving levels with track changing and a complete signalling system, multiple weather and exclusive night mode, various camera views, 10 trains to upgrade, and a realistic simulation of stations and passengers.
Brave Train
Brave Train is an unusual combination of Snake, Three in a row, and – of course – trains! You must help the brave train collect scattered multi-colored wagons. Three in a row of the same colors of the wagons will remove from the train all wagons of that color. The gameplay is made more fun by getting the coins collected for wagons, performing various quests, and unlocking new locomotives. The game features four playing fields of different sizes and configurations with three difficulty levels that differ in terms of train speed, the number of drop-down wagons on the field, battery capacity, obstacles, and other variables. There are bonuses on the field, and lots of side quests as well.
Train Sim
Train Sim is the essential train operating experience where you pick up passengers from stations, carry freight, and control modern and historical trains. The game gives you the freedom of driving the trains, sitting in passenger cars, or simply observing the train from the ground. There are 47 types of trains, 8 3D environments, special scenes such as a Kids Scene with toy trains and an underground Subway Scene, and 3D cab views for all trains. The simulator boasts realistic sounds, easy controls, and is free of In-App purchases. However, the free-to-play version is supported with ads.
ALSO READ