5 differences between the Moto Z and Z Force that aren't immediately obvious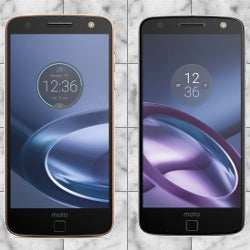 Official as of last week, the Moto Z and Moto Z Force bring quite a few interesting features to consumers, not least of which the ability to modify their functionality through the various MotoMods—like a pico projector add-on. These are interchangeable between the two devices though, and indeed, much of the hardware inside the two new devices is highly similar.
Just how similar, however, one may wonder if he's in the market for a new smartphone, and he's eyeing Moto's new wares. Well, for the very big part, we're talking about pretty much identical specs sheets, including a shared Snapdragon 820 processor, 4GB of RAM, 5.5-inch Quad HD (1440 x 2560)
pixel
resolution screen, and 5-megapixel front-facing camera with flash for better selfies.
That said, there are still a handful of differences between the two that may not be immediately obvious, and these are very much deserving of being pointed out. Here goes: