5 devices once thought to be original iPhone killers
99+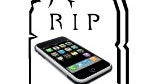 As we're nearing the 5-year anniversary of the original iPhone's release here in the US, we can't help but recall how much of a profound impact it made in the mobile landscape. Before its arrival, smartphones primarily consisted of portrait QWERTY devices like those that came from RIM and Palm – with a few touch options from the Windows Mobile smartphone camp. Revolutionary in many ways, Apple's pride and joy didn't only shatter our perception of what it means to be an aesthetically good-looking smartphone, but it seemingly left the competition in the dust in terms of the platform experience.
Well, as everyone else quickly tried to keep pace with the iPhone, we were all introduced to devices that were given the notoriety of being an "
iPhone killer
." Nowadays, the terminology is sparsely used, seeing that we're surrounded by many smartphones that are on the same pedestal as the iPhone – well, in terms of popularity and sales. However, during the original iPhone's early days, it seemed like the coined term was being tossed around by many devices, and of course, some were more memorable than others.
With that in mind, here are
5 devices once thought to be original iPhone killers
. If you owned any of the mentioned devices, were you gung-ho telling friends and people about the superiority of your device?