5 cool Android launchers and themes for you to try (September)
5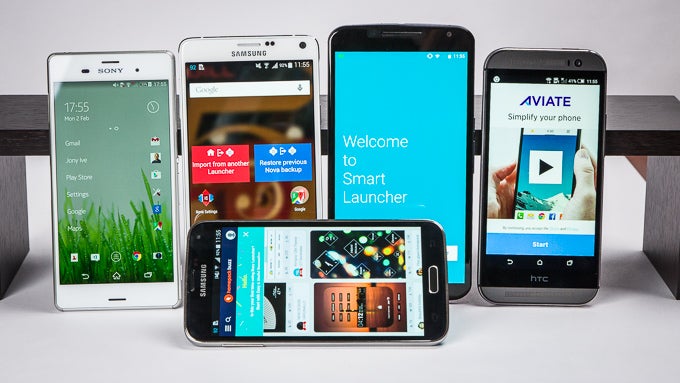 Custom launchers, or home screen alternatives, can breathe new life into your device
The Play Store is awash with great (and not-so-great) apps and games but when you install a new launcher, you can completely change the feel and functionality of Android. With a decent launcher in place, it can often seem like you've scored a whole new device. If you've grown bored of your current setup or simply feel like a change of scenery, we've got a nice little selection of new / cool / relatively unknown-but-noteworthy launchers below.
We've tried to keep things nice and varied, with options ranging from the functionally heavy, to the richly customizable, to the more simplistic, clean experiences.
In no particular order, let's dive straight in.
Large Launcher is aimed towards senior citizens and or folks with bad eyesight, but offers a certain appeal beyond its intended demographic. As you'll see within the screenshots below, you get a very clean, simple tiled interface somewhat reminiscent of Microsoft's Windows Phone. The buttons are much easier to press than the often tiny icons you get with some launchers, while the UI generally keeps right to the point.
It's relatively no-frills but if you prefer a UX sans the additional non-necessities, then you may well be interested in the free-to-download Large Launcher.
Mega Launcher is a relatively new entry to the Play Store designed to offer customizability whilst retaining a smooth, snappy and responsive user experience. With a bunch of themes, widgets and a smart folder feature to automatically organize your apps by category, Mega Launcher has plenty going for it. Plus, it's free, which is always nice.
If you like what you see in the images below, be sure to give it a whirl by hitting the link above.
Where most launchers let you tweak the experience in numerous ways, Turbo Launcher takes the idea of customization to the nth degree. You can alter just about any element of the interface to your specific tastes, including icons, fonts, widgets and app drawers.
Not only does Turbo Launcher give you carte blanche over how your handset should look and feel, but it's also said to be reasonable on how much power it uses. Maker
Phonemetra
touts its as "the best launcher for battery saving" so if you're seeking a new look that doesn't quickly drain those precious droplets of juice, Turbo Launcher may just float your boat.
Wiser is not especially new, but it's one that may have slipped under your radar. As the name implies, it attempts clean up and simplify the user experience in a dramatic fashion. It does this by chopping up the home screen into four sections: Notice Board, Home, Favorite People and Applications.
The idea is that the Notice Board keeps abreast of your notifications, Home includes your everyday apps, Favorite People offers easy access to your most relevant contacts, while Applications includes any other apps you may need.
In essence, Wiser is aimed at folk whose technical knowledge may struggle with the traditional layouts that grace Android devices. With that said, you needn't be a technophobe to appreciate simplistic design, and Wiser certainly appeals to our love of minimalism.
Though we did mention that this roundup is in no particular order, we've left perhaps our favorite of the bunch until last. New launcher is a very small, lightweight package that -- amongst other things -- offers a look and feel similar to Android Nougat. Google's latest firmware has been out for the best part of a month already, though it's likely, based on arbitrary
Law of Android Averages
, that your device has yet to get the nod. Thus, New launcher is a heavily customizable alternative that will give you Nougat look and feel you crave.
There's more to the launcher than its Nougat-emulating credentials, however. There are some 200 different options bundled into New Launcher including a Power Saver mode complete with CPU monitoring, and all miraculously packed into a bundle of less than 3 MB.
This collection is the first of an ongoing series rounding up the new, cool and intriguing launchers as they hit the Google Play Store. We'll be lovingly hand-picking some of the best new entries on a monthly basis, so stay tuned for more launcher-related goodness.
We hope you found something to suit your tastes in among the featured home screen alternatives. Let us of your favorite in the comments, and also, feel free to suggest any new or obscure launcher that you feel deserves a feature next time around.