Forget about keys and open the front door with your smartphone like a boss with these 5 smart locks
11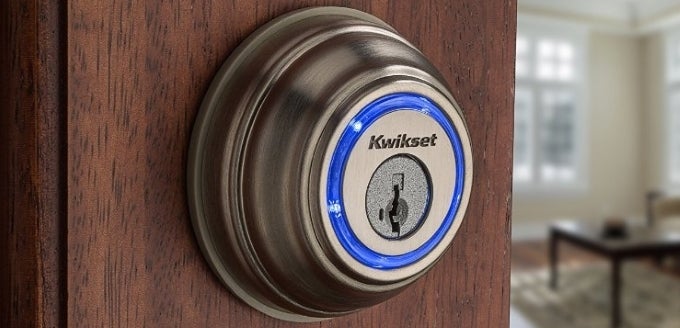 Unlocking your car doors with your smartphone sounds rad, right? The next logical step on your way to 2017 technological supercoolery is entering or locking up your house or office using just an app on your phone or tablet, secured with all sorts of mechanisms – from lock screen codes or patterns to biometric security like fingerprints and iris scanning. To do that, you'll have to install a smart lock. They come in many shapes and sizes and offer all kinds of unique functionality. But most importantly, they are sturdy, secure, and convenient. We have rounded up five of the better options on the market for you to check out.
These smart locks are made out of durable materials, feature bespoke cybersecurity systems (so the overly smart kid next door won't be able to break in with his leet computer skills), and give you the freedom to completely forget about keys – including the one you leave under the welcome doormat (especially that one). With smart locks, sharing or restricting access becomes the same thing as sharing gift codes or your Steam and Netflix accounts. It's the future, but it's already available to us and you are invited to give it a try!
Schlage Sense Smart Deadbolt
The Schlage Sense Smart Deadbolt has an illuminated touchscreen that provides easy accessibility and eliminates the hassle of fumbling around for your keys. Pairing it with the Schlage Sense app (iOS only) gives even more opportunities for control. Moreover, the Schlage Sense Smart Deadbolt integrates with Apple HomeKit, meaning you can unlock your door by talking to Siri on your iPhone (or other Apple device). As for physical security, the lock is designed to meet the highest industry standards for strength and durability, so it's going to give intruders enough hard time breaking in to ensure some peace of mind on your side.
| | |
| --- | --- |
| Dimensions | 2.1 x 3 x 8.2 inches |
| Batteries | 4 AA batteries required |
| Operating systems | iOS |
| Connectivity | Bluetooth Smart |
August Smart Lock
A great example of a modern smart lock, the August lets you lock and unlock your door, create "virtual keys" for guests, and keep track of who comes and goes – all from a smartphone app. The August can automatically lock and unlock as you go outside or approach the door. The product also boasts Apple HomeKit integration for easy operation and checking of the lock's status.
| | |
| --- | --- |
| Dimensions | 3.4 x 3.4 x 2.2 inches |
| Batteries | 4 AA batteries required |
| Operating systems | Android, iOS |
| Connectivity | Low Energy Bluetooth |
Ultraloq UL3
With the Ultraloq UL3, your smartphone becomes your key. Unlocking the door means using the Ultraloq App on your phone, although some may prefer the fingerprint sensor (scratchproof, dustproof and waterproof) that's built into it. Regardless, the gadget uses Bluetooth Low Energy, which ensures a reliable connection that keeps working even in the event of power or internet outages. Additionally, the Ultraloq App has some cool superpowers that let you manage users, log who enters, and clone user profiles when adding more Ultraloqs.
| | |
| --- | --- |
| Dimensions | 7 x 6.3 x 3.5 inches |
| Batteries | 3AA batteries required |
| Operating systems | Android, iOS |
| Connectivity | Low Energy Bluetooth |
Kwikset Kevo
Kevo is so smart, it will recognize you approaching the front door and unlock it upon touch, meaning your phone can stay in your pocket or purse. And when your phone is indoors, Kevo will maintain your home's security and prevent it from being unlocked without your permission. The SmartKey Security built in it offers strong resistance against forced entry techniques and other entry methods, such as lock picking and lock bumping. The lock is finished in Satin Nickel for a clean, modern look that will suite a modern office, apartment, or house.
| | |
| --- | --- |
| Dimensions | 10.3 x 5.9 x 3.7 inches |
| Batteries | 4 AA batteries required |
| Operating systems | Android, iOS |
| Connectivity | Low Energy Bluetooth |
Master Lock Bluetooth Outdoor Padlock
If you want to lock up stuff 2017 style, this Bluetooth-secured outdoor padlock is the way to go. It combines the toughness of Master Lock padlocks with the convenience of Bluetooth connectivity. Use your smartphone to unlock your lock, share access with guests, and monitor activity from a single, straightforward app. And if your phone is not available, simply enter your directional code on the keypad.
| | |
| --- | --- |
| Dimensions | 5.3 x 2.2 x 1.1 inches |
| Batteries | Unknown type |
| Operating systems | Android, iOS |
| Connectivity | Bluetooth |
ALSO READ