5 of the best virtual pet apps that will scratch that Tamagotchi itch
4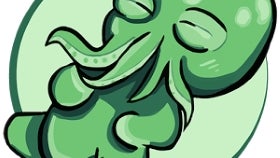 Remember Tamagotchi? The cute little virtual pets that we used to have on a key chain as children? They were quite fun to take care of, especially if your parents didn't allow a real pet in the house. Of course, it was quite annoying when you had to clean up after it in three o'clock in the morning, but you sometimes get that with a real mischievous cat, so it only added to the experience.
Well, Tamagotchi toys are now making a comeback, yet not a lot of people, be it children or grown-ups, would want a separate device to carry around, just to have a virtual pet.
Luckily, plenty of options exist as games and apps for our smartphones. Most of them are also far more complex, both in terms of gameplay and graphics, than the old grayscale aliens we used to take care of years ago. So, here are five of our favorite virtual pet apps.
My Om Nom
Price: Free (Android) | $4.99 (iOS)
How many times have you played Cut the Rope, and thought to yourself that Om Nom would make a great pet? Sure, he might chew on the sofa, chairs, car, and everything else in the house, but he's so adorable!
My Om Nom gives you just that – your own Om Nom (or Om Nelle if it's a girl) to take care of. You will have to feed it, play with it regularly, give it baths, and brush its teeth, just so you can keep the little critter happy and growing.
The game also features home customization, so you can buy various decorations and furniture for Om Nom to play with or try to eat in exchange for coins which you get by playing min-games.
Cthulhu Virtual Pet
The work of the brilliant H.P. Lovecraft is generally considered to be in the public domain, save for some later works. This simple fact gave birth to a lot of great (and some not so) games and works of fiction over the years. One of them allows you to have your own pet Cthulhu.
The Great Dreamer has just awakened, and it's your task to care for him and raise him to his full glory by feeding him anything from fish to his own Witnesses.
As with most virtual pet games, you will need coins to purchase food and activities for your own Cthulhu. These are obtained by taking The Sleeper of R'lyeh on various mini-games and achieving the best score possible.
My Boo
In complete contrast with Cthulhu Virtual Pet, we have My Boo – a colorful little virtual pet game that lets you care for a little blob of joy. You will have to feed it, play with it, and keep it healthy.
The game features some degree of customization, but what surprised us is that you can actually add limbs and body parts to your initially-shapeless little pet, making it look like an animal, a person or whatever else you could imagine.
Dragon Pet
If you're looking for a fantastic creature to care for, but Lovecraftian deities are not your thing, why don't you adopt a dragon? Dragon Pet, as the name suggests, lets you do just that.
At first, you will be tasked with choosing the colors of your new fire-breathing friend, and hatching the egg. Once that's done, you will have to cater to its needs until it grows into a huge treasure-hoarding behemoth of a dragon. This includes playing various games with it, giving it a book to read, or just spending some quality time with your scaly companion.
BUDDY
If you want a virtual companion on your smartphone, but you're not too keen on actually taking care of it, BUDDY is the perfect choice for you.
BUDDY is a tiny little humanoid that will walk around your screen, performing different animations and, basically, being useless but entertaining. It will need some very basic cares, such as occasionally feeding it a drumstick or giving it a ball to play, but most of the time, it will just walk around your screen and stay out of your way.