5 accessories to connect a smartphone or tablet to your TV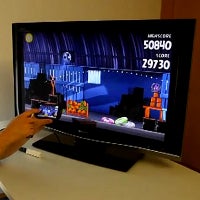 We've all been there, lounging on the couch with our phone or tablet and wishing we could stream videos from the internal storage, Netflix, YouTube and so on to the largest screen in the house right in front of us.
It is not a seamless task, as there are no universal standards yet, both for doing it with a cable or wirelessly, but there are some accessories out there that make it possible.
Wireless streaming is, of course, preferable for our lazy ways, but we don't mind the occasional cable snake if the mobile device can be hooked that way for cheap, or if the wireless sees too many interruptions, as is often the case.
There are DLNA streaming boxes for the wireless part, in case you don't have a DLNA-capable TV, and adapters for almost any kind of port for the wired way, so check out a few of them in our slideshow below to know what you are in for when considering a TV hookup on the cheap.