5" Droid Incredible X to be the... Google Nexus 5?
99+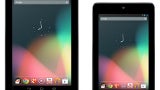 Geez, it's pretty busy here in the world of mobile these days. Last week we had the announcement of the new Windows Phone-powered HTCs and the launch of the iPhone 5, but this week is also starting strongly, as we now have this crazy rumor going that the 5" Droid Incredible X,
which we've seen leak
a few times, will end up being a device called Google Nexus 5!
Ever since Google introduced the Asus-made Nexus 7 tablet, which made "great hardware" and "low price" possible in the same sentence, we've been expecting the tech giant to continue completing this line-up with devices of other screen sizes. Well, we actually expected to see a Nexus 10 first, but if this new rumor is correct, the next Nexus handset is going to feature a 5" screen, making i a "phablet" offering, comparable to the
Note II
and
LG Intuition
. Of course, this information is far from confirmed, so you should take everything with a generous pinch of salt.
Anyways, according to an unnamed, but allegedly "very reliable" insider, the Droid Incredible X (which some of us expected to get announced during
last week's HTC event
), will become the Nexus 5, and what a Note II alternative this is going to be! First of all, it's said to sport a gorgeous 1080x1920-pixel display (we told you you were going to need a lot of salt...), Snapdragon S4 Pro chipset with LTE (also available in the upcoming
LG Optimus G
), 12MP main camera, 2MP FF one, 2,500mAh battery and up to 64GB internal storage, which sounds plausible, when you have in mind that Google usually avoids putting microSD card slots in its Nexus devices. Software-wise, the device is expected to come with Android 4.1.2, which is said to bring some improvements to Project Butter (UI responsiveness/smoothness), additional lockscreen functionality and the usual set of bug-fixes.
With HTC not doing too well these days, could this be the device that would get it back in the game? Well, one thing is certain - even if this device has the Nexus branding on it, it will have some helluva hard time competing against Samsung's Galaxy Note II.
source:
GSMArena