4G LTE now available on Mount Everest, seriously
6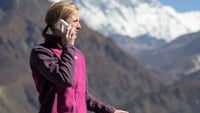 Planning on visiting Mount Everest anytime soon? Us neither, to be honest. Those who
are
going to see, and probably challenge, the world's highest peak, however, will have access to 4G LTE cellular connectivity. Yes, seriously, there's LTE on Mount Everest now.
Huawei and China Mobile are the ones who deserve credit for that. Last week, they deployed their 4G LTE towers at Mount Everest base camp, located at an altitude of 5200 meters above sea level. At a ceremony to commemorate the network expansion event, the two companies demonstrated their infrastructure's capabilities in front of about 200 guests, who witnessed video being streamed live in HD over LTE straight from the Everest base camp.
"Bringing 4G to Mount Everest marks an important milestone in global LTE TDD development. We are very excited to make this possible, and look forward to working with more operators worldwide to bring high-speed mobile broadband services anytime and anywhere", said David Wang, president of Huawei Wireless Networks.
China Mobile has been offering cellular services near Mount Everest 24/7 since 2008 in partnership with Huawei. The latter is now providing 4G LTE service equipment for nearly 40 carriers throughout Asia, North America, South America, the Middle East, Western Europe, Russia, and Africa.