4 people get facial hair caught in iPhones, prepare for beardgate
77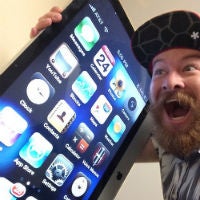 It seems as though bendgate is finally quieting down, but could there be another scandal on the way for Apple? No. Definitely not. Especially not with this latest bit of complaints. It seems that there have been some users who have been finding that their beards are getting caught in their new iPhones.
The news comes from a
9to5Mac
community member who says that the seam between the glass of the display and the aluminum case is a prime place for facial hair to get caught. He said that his iPhone 6 Plus "keeps yanking out my hair when I'm making call", and surprisingly, he's not the only one having the issue. Apparently, a Twitter search revealed three other people who had the same problem. We had trouble finding four people from the past three years with that same issue.
Does this mean we're on the verge of a new beardgate scandal? No. Nope, definitely not. But, it is amusing. I actually had that same problem with a Nexus (either the Galaxy Nexus or Nexus 4, not really sure), and it wouldn't be a surprise if there are a bunch of phone where this will happen. Let's hope we don't see a rash of bloggers pulling their beards out with an iPhone.