3rd-gen Moto E series won't see Android 7.0 Nougat, says Motorola
8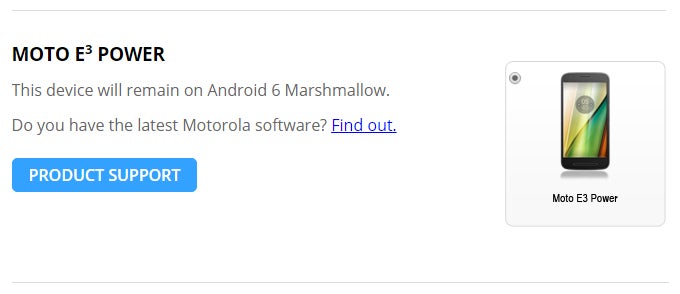 Motorola has confirmed that the four-month-old Moto E3 Power is to be left behind
With so many mid-to-lower-end options available across the Android smartphone world, one can pick up a capable handset for a mere fraction the industry darlings. Most of the time, however, those opting for cheaper models forgo more than just power and general hardware functionality. If you buy a middling handset, the chances are you'll get one major firmware update if you're lucky, and in many cases, none. Case in point: if you picked up last year's
Motorola Moto E3
or
E3 Power
, you're going to be left out in the wilderness with Android 6.0 Marshmallow.
In the fast-moving smartphone world, new handsets are often considered old news just a couple of months after release. Motorola has reaffirmed this notion by noting that the E3 series will not be carried forward to Android 7.0 Nougat. Per the software product pages of Motorola's official site, the Moto E3 Power's fate as a permanent Marshmallow handset is sealed and by default, the E3 is too.
No specific reason has been provided as to why the devices -- released as recently as September of last year -- will not be seeing any further updates. We can perhaps surmise that the Moto E3 duo's sales have not reached the firm's expectations, even though 100k units of the E3 Power were sold during its first day in India alone. Conversely, it's possible that the company never really intended to update the E3 and E3 Power, though this would be surprising given their age.
What do you think about this - does it make you second guess the purchase of a cheaper smartphone? Let us know of your take in the comments!