3G-enabled iPad 2 models show reduced built-in mike performance
6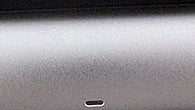 Are you a fan of FaceTime? Well, since the iPad 2 adopted its predecessor's built-in microphone and received a front-facing camera, Apple's tablet has now become a perfect candidate for video calls. However, somebody seems to have noticed a clear difference in audio quality when comparing the mikes on the Wi-Fi-only iPad 2 and its 3G-enabled version.
When Apple decided to relocate the microphone on the iPad 2, it may have overlooked the fact that its sonic performance may have been affected by differences in design between models. On the 3G version of the tablet the mike is housed under a plastic strip, which covers the additional antenna, and not inside of the metal casing as it is on the Wi-Fi model. The difference in materials looks like a sensible reason for the "muffled" and "echo-prone" sound, and the effect is described as most noticeable when the iPad 2 is facing the user.
No comment on the issue has been given by Apple, but it seems like not that many users have brought it up yet. Nevertheless, with so many people expecting their iPad 2s to be delivered to them within the following weeks, Apple might have to act and tweak the tablet's design in the middle of its production.
source:
iLounge
via
TUAW
Recommended Stories