3D video recording with the T-Mobile G-Slate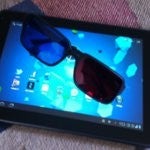 With the
T-Mobile G-Slate
in hand, one of the first things we decided to do with it was to shoot a couple of 3D video samples to better get a feel for its novel feature. Seeing that we were in town for T-Mobile's very own launch event for the G-Slate and G2x, it was only natural for us to capture the hustle and bustle atmosphere surrounding the Big Apple.
Employing not one, but
two 5-megapixel cameras in the rear
, the G-Slate is able to shoot 3D videos in
720p format
– however, it's worth nothing that you get full
1080p
for normal recording. As you can tell with the videos below that we uploaded to YouTube, you have a variety of viewing options available to you. On the tablet itself, you can use the included pair of anaglyph retro-style 3D glasses to watch 3D videos, and if you happen to have a 3D capable display at home, you can further select alternative modes like
side by side or interleaved rows, columns, or checkerboard
. As a reminder, we left it at the default recording settings, but you can actually manually change the depth control on the G-Slate to better focus the 3D attention on objects closer or further away.
So if you happen to have a pair of 3D enabled glasses, you can check out the 3D videos below to see whether or not it's something that makes the T-Mobile G-Slate truly unique from the competition.