33 years after his death, you can sail with John Lennon using a new iOS app
3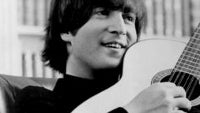 A charismatic and popular leader is gunned down in a major metropolitan city. Conspiracy theorists denounce the findings that a lone gunman shot him down, blaming the FBI and CIA. Many who can't remember what they had for breakfast today recall the exact moment they heard the news of his passing. JFK? Nope. We're talking about former Beatle John Lennon who was murdered an incredible 33 years ago in front of the Dakota where the rock star lived.
Now, a new app, John Lennon: The Bermuda Tapes, is available for iOS flavored devices and will allow you to listen to interviews with Lennon and with those who accompanied John on a sailing trip to Bermuda. This took place just 6 months before Mark David Chapman assassinated the rock star. It was a pivotal trip for Lennon because during it, he heard the B52's hit Rock Lobster which reminded him of his wife's own songs (and if you've ever heard a Yoko Ono piece, you'd know that John was right) leading him to believe that the music industry had finally caught up to Yoko's, uh, tunes. Once back in the Big Apple, John and Yoko got to work on Double Fantasy which produced some hit singles for John.
The app not only allows you to hear Lennon explain how he writes songs, it also includes demo recordings, photos, handwritten lyrics and an interactive experience that makes you the skipper of the Megan Jaye. You can also hear John and Yoko fleshing out some of the songs that appeared on Double Fantasy. It's a treat for fans of the Fab Four or John's solo career. For $4.99, you can imagine sailing away with John (see what we did there?) as music history is being made. A major chunk of the revenue derived from the app is going to an anti-hunger program.
source:
iTunes
via
NYPost