$3000 metaPro AR glasses now available for pre-order
17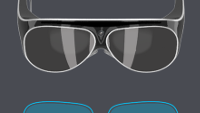 A Silicon Vally start-up company called Meta is working on Augmented Reality glasses, similar to Google Glass, but with a couple of major differences. One is that Meta's specs will use gestures to control the images on the glasses. And Meta's specs are designed to be more stylish than Google's connected specs. Its newly unveiled metaPro has a visual display 15 times larger than Google Glass. The lenses are made by Zeiss.
The metaPro is available for pre-orders at Meta's website and the glasses go on sale next July. We do have to point out that the glasses are not wireless, but instead connect by wire to a mini-computer in the user's pocket. This computer, which handles connectivity and processing for the metaPro, is larger than an iPhone. It is powered by a 1.5GHz Intel i5 CPU and includes 4GB of RAM. Eventually, the company plans on cutting the umbilical cord and offer completely wireless connected specs like Google Glass.
The company expects early buyers of the specs to use them at home, syncing to their smartphones in another room. Users can hold out their hands and see a virtual image of their handset. Apps being worked on by developers include a live action game and one for medical technicians that shows a patient's vital signs on the display.
"I have to build something that's as beautiful as a pair of designer sunglasses. This it the culmination of hundreds of hours of planning. How do you fit this complex componentry into something so small and slim."
-Meron Gribetz, co-founder, Meta
Meta's two earlier iterations of its glasses sold for $667 and brought in $650,000 in revenue. But the metaPro carries a much heftier $2985 price tag, almost twice the price of Google Glass.
source:
Forbes