3-in-1 camera connection kit for the iPad accepts Secure Digital & Compact Flash cards
2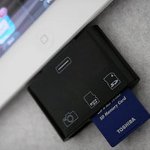 For some of the critics of the iPad, they undeniably focus on the tablet's inability to quickly and easily transfer content without the need of a computer – which isn't an issue with other tablets employing microSD card slots. Well, that's not preventing manufacturers out there from tackling the issue, but it appears that we have a reasonable solution.
Although it's not known by many people, there are actually quite a few SD card adapters available for the iPad, but for those who are heavily into photography, some will know that there aren't that many compact flash adapters out there in the market.
Fortunately, that's where the
3-in-1 Camera Connection Kit
comes to mind seeing that it allows you to effortlessly transfer content from you camera's memory card to the iPad. Naturally, you've got the ability to transfer stuff to a microSD and secure digital card, but you've also got the added benefit of
compact flash support
.
As it stands, the adapter supports all UDMA and non-UDMA compact flash cards – with the peppy
write speeds of 133MB/s
. If this is something that you've been waiting for, just know that you'll need to spend a cool
$29.99
to get your hands on one. Furthermore, the adapter will work with either the original iPad and iPad 2.
source:
MIC Gadget
via
SlashGear