23% of iPhone users want Verizon
58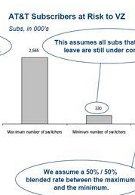 Banking giant Credit Suisse decided to take a survey and discovered some interesting things. As soon as Verizon offers an iPhone of its own, 23% of U.S. iPhone users will switch over to Big Red (the carrier, not the gum!). Furthermore, 37% of AT&T's iPhone customers plan on leaving for another carrier once the exclusivity period is over. Another separate survey shows that 34% of AT&T's iPhone customers will wait for a Verizon version of the device before upgrading to the next version of Apple's touchscreen phone.
Credit Suisse estimates that once the iPhone becomes a "free agent",
1.4
million AT&T subscribers will switch to Verizon. With all of this talk of changing carriers, three times the number of iPhone owners are willing to break their contract to leave AT&T (3% vs 1% for other models). When iPhone users contract expires, 18% plan on heading for a new carrier, twice as much as non-iPhone users.
While 23% of current iPhone users in the U.S. said they would switch to Verizon for iPhone service, 63% said that they would stay with AT&T. 3% said they would switch to Sprint and 2% selected T-Mobile. Credit Suisse predicts that AT&T will have 18 million iPhone subscribers by the end of 2010.
Apple iPhone 4 Specifications
|
Review
source:
electronista