2018 Holiday Gift Guide for the Apple user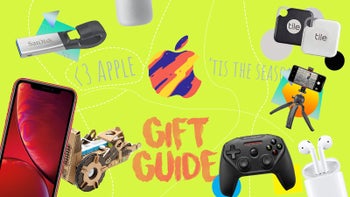 'Tis the season for gifts and if you have a friend or loved one who has a soft spot for Apple gadgets, this is the guide for you!
Right below, you'd find a few cool options that most people immersed in the Apple ecosystem will appreciate having, from the really cheap ones to the more expensive options.
Some great gifts for the Holidays!
Also, keep in mind that Black Friday is right around the corner and many of those gadgets will be available at lower prices, so mark them on your wish list and get ready to shop!
Apple AirPods
Price: $160
Buy here
Did you know that Apple's
AirPods
work with any phone, including all Android devices? Of course, pairing is faster with an iPhone and you get the useful pop-up telling you all about the battery level on the case and each of the AirPods. In 2018, we are still impressed with just how often we turn to the AirPods for their incredible convenience and great, 5-hour battery life. And yes, we still haven't lost ours, as unbelievable as that is.
Apple HomePod
Price: $350
Buy here
The
HomePod
is definitely not among the cheapest wireless speakers, but if you are looking for a speaker that is tiny compared to traditional speakers yet delivers a truly impressive sound quality, the HomePod is the way to go and it will make a great gift. Its weakest point is certainly Siri, as well as its inability to work properly with non-iOS devices, but if you are all in the Apple ecosystem, you will likely enjoy the sound quality and convenience of the HomePod.
Marshall Kilburn
If you'd rather spend less than the HomePod on a powerful and good-looking speaker that can work with all Bluetooth-enabled devices, the Marshall Kilburn is one great choice. The vintage looks and clear sound at even higher volumes guarantee that you will enjoy listening to all different sorts of music.
UE Boom 3