2011 marked an 169% increase in AMOLED revenue
5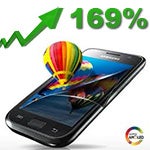 2011 was predicted to be the year of the smartphone
. Now that it has come to a close, reports are coming in on the industry's successes. One bright spot is AMOLED displays.
AMOLED has seen a ton of growth this year, particularly in larger smartphone displays. Overall, AMOLED shipments are up 97%, accounting for 90 million units in 2011. The revenue on those shipments is expected to hit $3.36 billion, which is a growth of 169%.
Much of this growth can be attributed to Samsung's integration of AMOLED displays into its devices. "Samsung Mobile Displays (SMD) has been a key driver of the growth of AMOLEDs, with the company accounting for 97.5% of all AMOLED shipments," notes Hiroshi Hayase, DisplaySearch's vice president of Small/Medium Display Research.
2012 hopes to see continued increase in AMOLED displays. It is reported that LG Display, AU Optronics (AUO), and Chimei Innolux (CMI) are all adding AMOLED shipping into their 2012 agenda. Samsung will augment its current success by producing larger AMOLED displays for the Galaxy Note and Tab tablet PCs.
AMOLEDs are also beginning to gain traction outside the traditional smartphone and tablet market. LG Electronics is planning to develop a 55-inch AMOLED TV and the new Sony PS-Vita gaming system features a 5-inch AMOLED display.
source:
DigiTimes