$20 Aakash 2 Android tablet goes official, unveiled by Indian president
20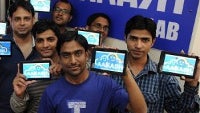 You may or may not have heard about the Aakash tablet, an ultra-affordable tablet for the developing Indian market. It's a neat little device and it's amazing how cheap it has gotten. While it was initially expected to cost around $40, the
Aakash 2
tablet is now out for the extremely low $20, after a subsidy by the Indian Government. That's right, we did not miss a zero, or anything, that is the price that Indian students will have to pay for the device, merely twenty dollars.
Indian President Pranab Mukherjee officially launched the affordable device on Sunday. "Technology enabled learning is a very important aspect of education. This must be adapted to our specific needs and introduced expeditiously in all educational institutions across the country," he said.
What you get for that is a simple 7-inch Android tablet, and that's great. It features a 1GHz Cortex-A8 processor, 512MB of RAM, 4 gigs of internal storage. The Aakash 2 runs on Android 4.0.3, and does feature a built-in WiFi connectivity and a VGA camera up front for video chats. Battery life is not stellar at 3 hours, but we'd take this at the price.
The trick with the price is that it applies to students only, while others will have to pay $80 for the device. It's all about getting tablets in the hands of as many students as possible. The initial plan is for the first batch of 100,000 tablets to go out to students.
source:
Venture Beat
via
Engadget