2 for 1 sale would be Berry Berry good for Verizon customers
This article contains unofficial information.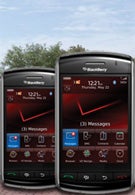 With all of the recent talk about sales numbers between the iPhone 3G and the BlackBerry Storm, it looks like Verizon has found a way to get those sales numbers up. While not yet officially announced, rumors are circulating that starting February 6th and lasting until March 31st, when you buy any BlackBerry offered by Big Red you will get a second one of equal or lessor value for free. And yes, this deal does include the Storm. Now, there is no such thing as a free lunch, so you must sign a new two-year contract to take advantage of this offer. There will be no mail in debit card necessary when buying the Storm and for the Curve 8330 and the 8830, you will still get a $70 debit card back from the purchase of the first device of those two models. The Pearl 8130 rounds out all of the BlackBerry's that are part of this "Buy One Get One" offer. Two non BlackBerry models, the Palm Centro and the Samsung Alias, are considered part of this special deal. Again, at the moment this is pure speculation. and speaking of such, the same sources are reporting that the next official firmware upgrade for the Storm will go out on March 31st. The last official update was 4.07.0,75 and the latest leaked OS which hit the internet last weekend, was 4.07.0.99.
source:
BGR