14 best Android live wallpapers of 2014
12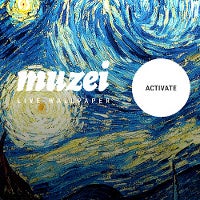 Android walks away with the title 'the most versatile mobile operating system in terms of customization' in 2014, just as it did in previous years, as the situation has changed little. Android remains the only platform that offers full-on launchers, themes, and live wallpapers.
Android live wallpapers are a neat and easy method to add some action to your home screen, animate it and give it that sprinkle of personal flavor.
With all the new design advancements in Android 5.0 Lollipop, good news is that you have a variety of new wallpapers utilizing that paper, material design language. But in picking thte best new Android live wallpapers of 2014, we haven't limited ourselves to material design only - check out our full collection right below.
#1: Muzei
Price: Free
Muzei made a splash when it arrived early this year. It offered an extremely stylish interface with a slight blur to images that you use as wallpapers, so that they don't distract you. Most importantly, though, Muzei launched as a free and open platform for all sorts of services to use - you can use it to show daily or hourly changing Flickr photos, beautiful National Geographic shots, NASA captures, and so much more.
#2: Fracta
Price: Free
This modern, colorful, tile pattern creator adds a liveliness and distinct flavor to your home panel, and it's free to download.
#3: Minima Live Wallpaper
Price: Free
#4: Live Jellyfish
Price: $1.99
It's hard to objectively describe why is it so fascinating to watch colorful jellyfish, but it is. And this live wallpaper does bring this tranquil and hypnotizing movement to your home screen.
#5: Lifeblood
Price: $0.99
If you want a reminder of your inner workings, the Lifeblood live wallpaper will give you a stylish way to see and feel what's flowing in your blood.
#6: SpinIt Live Wallpaper
Price: $0.99
With a simple and colorful idea, SpinIt Live Wallpaper changes as you spin between home panels in a never-ending display of cheerfulness.
#7: Asus MyWater
Price: Free
A live wallpaper by Asus itself, this free solution combines the aesthetics of ice floating in water with the meaning of battery percentage. The higher the ice, the more battery you have.
#8: Space Free 3D Live Wallpaper
Price: Free
Something for the space lovers out there, this 3D-style live wallpaper is a high-res, good looking render of planets in the vastness of space.
#9: Papercraft
Price: $0.99
A true material design-inspired creation, Papercraft brings you zillions of papery textures arranged neatly.
#10: Space Cityscape 3D LWP
Price: $0.99
For the futuristic types out there, Space Cityscape 3D live wallpaper shows the skyline of a town from future days.
#11: Heavenly Skies
Price: $0.99
Showing the view as if looking at space from another planet, through the branches of exotic plants, the Heavenly Skies live wallpapers is available for a dollar on the Play Store.
#12: Portus 3012
Price: Free
#13: Mountains Now
Price: Free
A cartoon-styled wallpaper inspired by Google Doodles, Mountains Now is free to get on the Play Store.
#14: Planetscape 3D
Price: $0.99
For some more planets and space excitement, the Planetscape 3D offers a lot of versatility for a buck.