11 awesome (and free) cat wallpapers for Android
13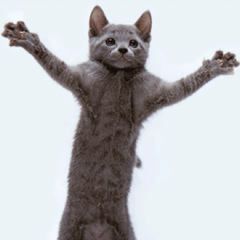 There's an old English saying that goes something like this:
the internet was invented by cats, for cats
. Or, uhm, perhaps we're remembering it wrong. In any case, cats are the internet's most beloved pets - you can't argue with that. So it's no wonder that smartphones, which are a portal to the web for many of us, have also been conquered by cats in some ways.
There are tons of cat wallpapers for smartphones out there, and today we made a selection of the coolest that are available for Android.
All the wallpapers we're presenting below are live wallpapers. They're free, so you'll be annoyed by ads from time to time. However, if you love cats, you'll surely find some wallpapers that make the occasional ad-related nuisance worth it. You don't need to thank us, the Secret Society of Cats That Rule the World already paid us generously to publish this article!