$1,000 invested in Apple ten years ago is now worth over $7,000
24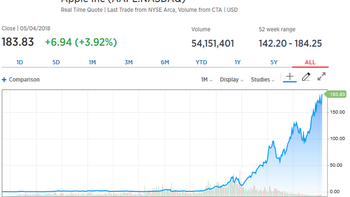 Let's say you had $1,000 in spare change to invest ten years ago. And suppose you had the ability to think ahead and see that Apple's ground breaking iPhone would mature into the firm's top selling product, and be at the vanguard of a smartphone revolution that has changed the world. So you sunk the entire one grand into shares of Apple. Cable channel CNBC computed that your $1,000 investment in Apple would be worth $7,111 today, assuming that you reinvested the dividends.
Would you have been able to stay invested in Apple considering all of the rumors about the iPhone that appear every few weeks? Both Warren Buffet and former hedge fund manager Jim Cramer have both argued that investors worry too much about quarterly sales of the iPhone. Cramer, who has been a CNBC talking head for years, says that Buffet tells him "how every kid he knows has [an iPhone] and they would never use anything else. That's good enough for him."
Buffet,
who bought an additional 75 million Apple shares during the first quarter
, confirmed in a CNBC interview that he added more Apple to his investment vehicle's portfolio after the end of last year. Part of that interview can be seen by tapping on the video at the top of this story. He know controls 240.3 million shares of Apple, believed to make up 25% of his portfolio.
"The idea that you're going to spend loads of time trying to guess how many iPhone X ... are going to be sold in a three-month period totally misses the point."-Warren Buffet, chairman and CEO, Berkshire Hathaway
Keep in mind that Apple's performance over the last decade is not typical. Still, many of the companies in the wireless industry have done quite well including Google, which Buffet admits that he missed and should have invested in years ago instead of IBM. During Friday's stockholder meeting for Buffet's Berkshire Hathaway holding company, the Oracle of Omaha said that besides Apple, other tech companies he likes include Amazon, Microsoft, Google parent Alphabet and Facebook. He praised their business models, noting that they no longer need additional funding to run.
source: CNBC