10 top of the line screen protectors for the Apple iPad Air 2
2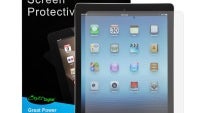 Let's get this out of the door - we think it's imperative you install a screen protector on your iPad Air 2. Reason? Apple gadgets hold their resell value unlike anything else out there. Keeping that beautiful screen in pristine condition means you'll be able to negotiate a higher price for the older tab when the time to upgrade comes around.
In the meantime, it will keep your iPad Air 2 oblivious to scratches, drops, oils, spills, dust, meddling kids, and other natural surprises. If you've never had a screen protector on your device, you have no idea how much pleasant to use it becomes with protection on - especially if you opt for a high quality tempered glass protector. When it comes to a premium product like the iPad Air 2, we don't think anything else will suffice, although you're welcome to buy a cheaper PET film or TPU-made protector if it's what you're after.
If you don't know what PET, TPU, or tempered glass means,
read our article about choosing a screen protector
, and return to our selection of 10 iPad Air 2 screen protectors that will cut it for Apple's godly tablet.