10 stylish and protective Apple Watch cases
13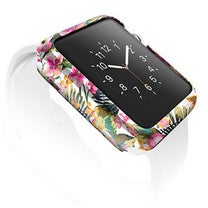 Since you've landed on this page, you're probably one of the few million owners of an
Apple Watch
. We're also guessing that your pricey investment is in need of protection – of something to shield it from accidental bumps. We can't blame you, as the Apple Watch, as cool as it may be, isn't exactly the toughest of all smart wearables.
The solution you're looking for could be an Apple Watch protective case, and we happen to have some right here, in the slideshow below. Mind you, these are not no-name accessories we randomly came across on the internet. These cases for the Apple Watch come from the same companies making some of the best smartphone cases in existence. In other words, the people behind these brands do know a thing or two about gadget protection.
The Apple Watch cases we've selected come in a variety of forms, sizes, and colors. Some are fun and sporty, others are made with toughness in mind. Then there are the cases that add lightweight protection without obscuring much of the Apple Watch and its natural appeal. Simply put, you're likely to find an Apple Watch case matching your taste in the pages of the slideshow below.