10 smartphones of 2014 you can use with your gloves on in the cold winter season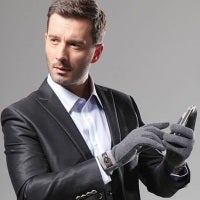 Hard to believe it's December already, but if the dates in our calendar, the chilling cold outside, and the barrage of Christmas shopping advertisements are anything to go by, it most certainly is December. This means the time to put your winter gloves on is approaching fast, and while they do keep those fingers warm, smartphone screens don't get along with them very well.
Although touchscreens with the capacity to sense signals through fabric have been around since late 2012, the amount of gloves made specifically for touchscreen operation outnumbers smartphones with extra-sensitive displays for some reason. Thankfully, this doesn't mean you won't be able to find a recent smartphone that works with your beloved pair of mittens. Here's ten of them, all introduced this year and up for grabs. Each one can keep you fine company during those cold winter bouts outside.
10 smartphones of 2014 you can use with your gloves on in the cold winter season